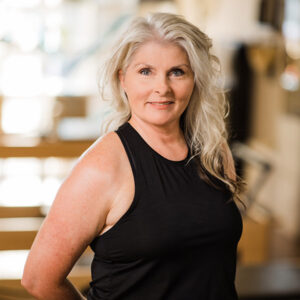 Rhoda Daniel Studio Owner. NCPT (Nationally Certified Pilates Teacher), 300 Hr Yoga Instructor, AFAA, and U.S. Army Physical Fitness.
Rhoda holds a Bachelors of Science in Biology Ecosystems from Eastern Michigan University, Masters in Strategic Studies from the U.S. Army War College; and is an Iraq War Veteran. After 34 years in the Army and Army National Guard; Colonel Rhoda Daniel retired. She is passionate about her second career at Bay Area Pilates, and has over 30 years as a Fitness Professional. Rhoda has taught a variety of classes, interwoven throughout both her military & civilian careers; that matured into a focused specialty of teaching Yoga since 1997 & Pilates beginning in 2005. Before Bay Area Pilates, Rhoda taught at a number of facilities; taught Military Personnel at U.S. Army Schools, on Installations; and taught elite Soldiers & Marines during combat operations in Iraq. She has experienced for herself the benefits of Pilates related to her own fitness, and injury rehab/recovery. Rhoda maintains her NCPT attending a variety of Pilates Continuing Education, and is a member of the PMA (Pilates Method Alliance). Prior to earning her NCPT; Rhoda completed her Comprehensive Pilates Certification thru Balanced Body. Rhoda incorporates all of her training with clients. She hopes to bring Pilates to more athletes and Veterans. Outside of teaching, she enjoys gardening, trail running, and volunteers with a few non-profit charity organizations.
Erin Galsterer Third Generation Certified Pilates Method Instructor.
Erin graduated from Michigan State University with an undergraduate degree in Merchandising Management. Upon graduation, she returned to Saginaw and spent several years working in the financial industry. From early childhood, Erin has had a passion for riding and showing hunter/jumper horses. She realized to stay safe and competitive she needed to expand into other areas of physical fitness. After taking several years off work to raise her two young boys, Erin fell in love with Pilates. She has trained and is certified under Master Teacher Trainer, Jennifer Kries. Erin continues her classical Pilates education yearly and also likes to add in workshops from various instructors and Pilates backgrounds. Erin was able to use her Pilates experience for both her pregnancy and postpartum rehabilitation with the birth of her third son. Erin has over 14 years of experience teaching Pilates and thoroughly enjoys the transformation it has brought to her clients over the years. She feels that Pilates has helped her and will help others build a sturdy, healthy body and a sound mind that provides extra energy for sports, recreation, emergency situations and every day life.
Tara Bird NCPT (Nationally Certified Pilates Teacher), Licensed YUR Back Instructor.
Tara was a dancer for many years including at CAS (now SASA) in Saginaw and a dance major at The University of Michigan. She transferred to study Art and Design and graduated from Central Michigan University with a degree in Interior Design. Tara was the Campus Arts Director at Northwood University for two years and also worked in Commercial Design for Steelcase and Herman Miller. After sitting at a desk for several years, she starting doing Pilates to keep herself moving and to try to alleviate low back pain from having scoliosis. Upon experiencing such positive results from Pilates, she decided to teach and help others enjoy the benefits as well. Tara underwent training with both Stott Pilates and Master Teacher Trainer, Jennifer Kries. She has taught Pilates around the area since 2001 and also teaches college students at Central Michigan University in the Physical Education and Sports Department. Tara enjoys using her dance background and improvisational skills along with the Classical Pilates Repertoire to create new and challenging classes for clients each week. Tara is married and has two teenage boys. When she is not teaching, she enjoys quilting, painting, and gardening and is a member of The Junior League of the Great Lakes Bay Region.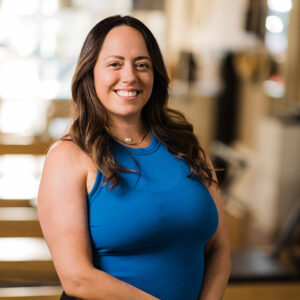 Alicia Rudd Pilates Training with Balanced Body.
Alicia began her Pilates journey in 2018 when she moved to Cleveland, Ohio. While searching for a new location to continue her yoga practice, she found a Pilates studio in the heart of the city, and instantly fell in love with the moving meditation Pilates had to offer. Born and raised in Naples, Florida. Alicia has always loved movement including: running, yoga, scuba diving and golf. Having earned her an associates of science in diagnostic medical sonography in 2015; Alicia has a unique understanding of anatomy and pathology from the inside out. She recently moved to Midland, Michigan, with her fiancé and dogs and is working her way through the comprehensive Pilates training program with Balanced Body. Alicia looks forward to sharing her passion for movement with the Bay Area Pilates community. She firmly believes Pilates is for everyone, and is enthusiastic to help people gain strength, flexibility and enhance their overall wellness.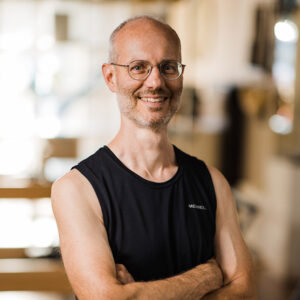 Jeff Jozwiak Pilates Training with Balanced Body.
Jeff holds a Bachelor of Computer Science degree and has worked for more than three decades in various aspects of the Information Technology industry. Along the way, as a side passion, he has had a keen interest in health and personal fitness. This interest led Jeff to develop a daily yoga practice since the early 90's in combination with a focus on holistic health and wellness. When his wife found Bay Area Pilates, as part of a rehabilitation program to assist with previous injuries, his interest was piqued to explore this fascinating form of exercise and body conditioning. He has been hooked ever since. Jeff particularly enjoys the ability to continue growing, learning and evolving that Pilates offers. The unique challenge, depth and healing capabilities of Pilates is unlike any other form of exercise he has encountered. This perfect combination has made Jeff excited to share his interest, passion and skills for Pilates. He looks forward to working with clients in both private sessions and group classes.